Nitrogen services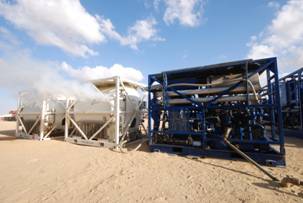 Saknafta has long-standing experience in Nitrogen services offering an array of N2 applications that include but not limited to oil-well lifting, nitrified foam diverter, pig launcher, station purging and leak testing of pipelines in plants and during shutdown.
Our Nitrogen services are designed to supply a continuous flow of N2 at a total flow rate of 3000 standard cubic feet per minute (scfm) at a delivery pressure of 10.000 psi.
The system is mounted on a skid to facilitate
Mobility and transportation.
Application
• Gas Lifting
• Drill Stem Testing (DST)
• Nitrogen Displacement
• Nitrified/Atomized Treatments
• Foam Treatment and Cleanout
• Differential Perforating
• Other